System requirements
Minimum:
OS: Windows 7 64-bit, Windows 8/8.1 64-bit, Windows 10 64-bit*
Processor: Intel Core2 Quad Q9500 @ 2.83GHz or AMD Phenom II X4 940
Memory: 6 GB RAM
Graphics: NVIDIA GeForce GTX 460 or AMD Radeon HD 5770 /w 1GB VRAM
DirectX: Version 11
Network: Broadband Internet connection
Storage: 30 GB available space
Additional Notes: *WARNING: 32-bit OS is NOT officially supported at this time
Warhammer: End Times - Vermintide
The world is ending, though few believe it. The once proud city of Ubersreik now stands in ruin at the hands of the dreaded Skaven army. Few have survived their ruthless invasion.
Team up with 3 friends and work together to thin out the ratmen's forces and drive them out of the city. Assume the role of one of five heroes, and hack, slash, smash, burn and pierce the vile Skaven using a multitude of weapons.
This is our last stand and only you can stem the Vermintide.
Features
Cooperative Survival for up to 4 Players: Band together with your friends or die alone. Vermintide will continuously test the teamwork and skill of you and your friends. Drop-in, drop-out Multiplayer and the addition of A.I. bots ensures a full team at any time.
Play as Five Unique Heroes: Take on the role of one of five distinct heroes, each with their own personality, agenda and story to tell.
Huge Hero Arsenal: Master each hero's unique weapons arsenal, and burn, hack, slash and smash your enemy using swords, hammers, bows, guns, magical staves & more.
Embark on an Epic Quest: Explore over a dozen diverse levels set across the city of Ubersreik - on the ground, in buildings, on walls and underground - ranging from the immense Magnus Tower to the treacherous Under Empire.
Gather Shiny Loot: Play as a team and be rewarded with loot dice at the end of a mission, giving you a weapon, a hat or a trinket.
Battle Unpredictable Enemies: Vermintide features a dynamic spawn system providing a constant set of new challenges lurking behind every corner.
Experience an Immersive Story: Games Workshop veterans have banded together to write a fantastic new addition to the Warhammer lore, offering a new perspective on the cataclysmic events of The End Times.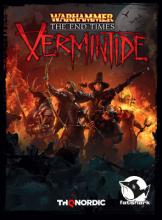 Content
Includes DLCs "Sigmar's Blessing" (new weapons), "Schluesselschloss" (new map) "Last Stand" (new game mode) and "Drachenfels" (three new adventure maps)
Game Disc
Press reviews
"Vermintide is one of those games that people say you should play but you aren't sure but then suddenly it's the best thing you've played with other people in ages"
Page last edited: 12.12.2018