System requirements
Minimum:
OS: Windows 7, 8, Windows 10 (64 bit)
Processor: Intel Core 2 Duo @ 2Ghz / AMD Athlon 64 X2 equivalent
Memory: 2 GB RAM
Graphics: 1024 MB Direct3D 11 capable video card (GeForce GTX 470 or Radeon HD 5850)
DirectX: Version 11
Storage: 10 GB available space
Sound Card: DirectX compatible Sound card
Additional Notes: These are preliminary system specs that can and will change!
SpellForce 3
SpellForce is deeply rooted in the amalgamation of the real-time strategy (RTS) and the roleplaying game (RPG) genre. In SpellForce 3, players are taken back to the roots of the SpellForce saga and experience war-torn times in the world of Eo, leading up to a cataclysmic event after which the first two parts take place. Command your troops, level/gear/skill up your party of heroes, strengthen your armed forces, conquer pivotal zones to expand your sovereign territory, and experience the world-changing events that will lead up to the convocation ritual at close quarters.
Features
RTS/RPG Mix: Unique gameplay combining RTS and Top-Down RPG genres

RTS: the RTS part focuses on macromanagement (overall strategy, conquering of zones, managing large groups of units)
RPG: the RPG part puts emphasis on micromanaging the party of heroes (skills of ALL heroes of the party have assigned keyboard bindings) in battles

Create & Customize: assemble your party of heroes and choose between numerous combinations of different skill builds
Strengthen and command your army: Prepare your troops and fight the mother of all battles. Moreover, players can utilize a wide array of strategic choices (like e.g. terrain, troop formations, visibility, scouting etc.) that would make Sun Tzu proud
Epic Storyline: Unravel a deep and sophisticated story, eventually leading up to the events that cause the world-changing convocation ritual
Rich universe & lore: Explore the world Eo and discover intrigues, secrets and a lot of loot for your hero
Extensive single-player campaign: 30+ hours, even more when you manage to discover all the things Grimlore put in the world
Multiplayer (PC): Strong multiplayer component with various modes - Play cooperatively or in versus battles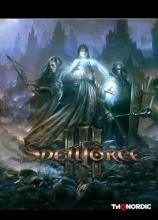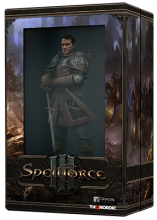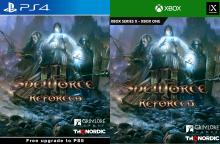 Content
Premium Quality Display Box
Sentenza Figurine (8 inch/ 20cm)
Godstone Amulet (2 inch/ 5cm)
Original Soundtrack CD
Spellforce 3 Artbook
Game Disc
Standard Edition game streamlined for consoles: Intuitive gamepad integration and tailor-made UI to smoothly control a strategy/RPG mix with complex mechanics
Page last edited: 1.04.2022