System requirements
PC requirements
OS: Windows® Vista, 7, 8
Processor: Intel® Core™ 2 Duo @ 1.8Ghz / AMD Athlon 64 X2 equivalent
Memory: 2 GB RAM
Graphics: DirectX 10 compatible graphics card (Intel HD 3000, NVIDIA GeForce GTS 240 (1GB VRAM) or ATI Radeon HD 4600 (1GB VRAM))
DirectX: Version 9.0c
Hard Drive: 5 GB available space
MX vs ATV Supercross
Ladies and Gentlemen, (re)start your engines!

About MX vs. ATV Supercross
Rip, jump and scrub your way around 17 tracks and try to cross the finishing line first against more than 60 official riders and harvest all that motocross glory. Choose between bikes or ATVs, multiple game modes including Career, Single races, and various local (splitscreen) and online multiplayer events with up to 12 players. Perform amazing tricks to impress your fans or just "whip" over jumps to finish the race first. Customize your rider with items from more than 80 licensed motocross companies and whirl up dirt and dust on your way to victory.

Background information
Nordic Games picked up this adrenaline pumping, multi-million selling racing frenzy in 2013 and reignites the MX vs. ATV flame from where Rainbow Studios left it. After assembling a core-team consisting of former MX vs. ATV staff along with other high-profile developers, MX vs. ATV Supercross is the first project that the new team started to develop and continue Rainbow Studios and motorsports' enthusiasts' vision of the game.
Features
17 Supercross Tracks for both MX and ATV riding
Career mode with 5 series (250 East, 250 West, 450 MX, 450 ATV, 450 MX vs. ATV)
More than 80 licensed motocross companies in the game to ensure authenticity
Over 60 professional riders licensed to race against
New improved physics and control system including reinterpreting the fan favorite "pre-load" from classic MX vs ATV games
Multiplayer with up to 12 players
Splitscreen Mode for local 2 players' racing excitement
Free Practice Mode; in this mode you can practice every track alone, via splitscreen, or online with up to 12 of your racing buddies; use this mode to practice every track to perfection and/or perform the craziest stunts with freely selectable spawn-points and without timekeeping/hay bales/AI-opponents
Motoclub Depot for regular content updates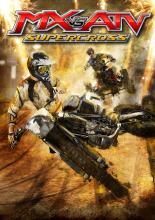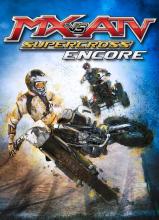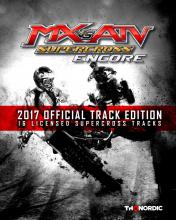 Content
More than twice as many tracks as the original MX vs. ATV Supercross
2 player split screen (consoles only!)
12 player online
Rhythm Racing mode: Drag race your friends on straight dirt tracks filled with obstacles and jumps
Free Ride mode for racing without boundaries
All new gear and graphics kits
Over 60 professional riders to race against
More than 80 licensed motocross companies for maximum authenticity
Remastered audio which includes for the first time 3D positional sounds and new environmental effects
Comprehensive tutorial section with pro tips for newcomers to the series
Includes: Full game MX vs ATV Supercross Encore with over 30 tracks
Bonus: 16 Official Supercross Tracks
2 Player Split Screen
12 Player Online
Customize Rider and Bike
Page last edited: 2.10.2018