Darksiders Collection
Contains Darksiders, Darksiders II and all add-ons.
The complete Darksiders series, now united in one package - either fight your way back to Earth as WAR in your search for vengence, or play as DEATH himself in an epic battle between the forces of heaven and hell. 
Darksiders Complete Collection includes: Darksiders, Darksiders II - Deathinitive Edition, and all DLCs (Maker Armor Set, The Abyssal Forge, The Demon Lord Belial, Death Rides, Angel of Death, Deadly Despair, Shadow of Death, Mortis Pack, Rusanov's Axe, Van Der Schmash Hammer, Fletcher's Crow Hammer, Mace Maximus, Argul's Tomb)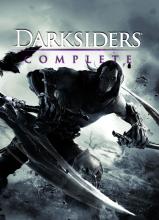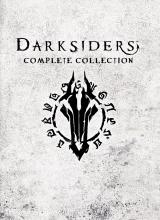 Content
Darksiders:
Apocalyptic Power of War - Unleash the wrath of War, combining brutal attacks and supernatural abilities to decimate all who stand in your way.
Extreme Arsenal - Wield a devastating arsenal of angelic, demonic, and Earthly weapons, and blaze a trail of destruction atop Ruin, War's fiery phantom steed.
Epic Quest - Battle across the wastelands and demon-infested dungeons of the decimated Earth in your quest for vengeance and redemption.
Character Progression - Uncover powerful ancient relics, upgrade your weapons, unlock new abilities, and customize your gameplay style.
Battle Heaven and Hell - Battle against all who stand in your way—from war-weary angelic forces to hell's hideous demon hordes.
Weapons and Gear - Darksiders features an extensive arsenal and inventory of weapons and gear.
Varied Play Environments - Players will fight through varied environments, including those above and underground, and modern and nightmarishly mythical in design.
PlayStation Network - Although a single player game, Darksiders features PlayStation Network Trophy support and other features to heighten the gameplay experience.
Darksiders II:
Play Death: Become the most feared of the legendary Four Horsemen, able to destroy entire worlds and battle forces beyond Heaven and Hell.
Epic Universe: Unlike anything the player has seen before, delivered in the unique style of Joe Mad.
Player Choice & Customization: Customize your experience with varied armor sets, weapons, and Skill Trees allowing players to create their own Death.
Replay-ability: Explore a vast open world, complete dozens of side quests and customize your Death with a full leveling system, Skill Trees and endless equipment combinations.
Traversal: Death is a nimble and agile character capable of incredible acrobatic feats allowing the player to explore the world like never before.
Wield a devastating arsenal of angelic, demonic and Earthly weapons
Character Progression – Uncover powerful ancient relics, upgrade your weapons, unlock new abilities, and customize your gameplay style
Battle Heaven and Hell – Battle against all who stand in your way - from war-weary angelic forces to Hell's hideous demon hordes
Over 50 hours play time
1080p native resolution (Darksider 2)
reworked balancing and enhanced graphics engine (Darksider 2)
Page last edited: 4.10.2018